How to Customize Your Space for Height Differences (3 Layout Examples)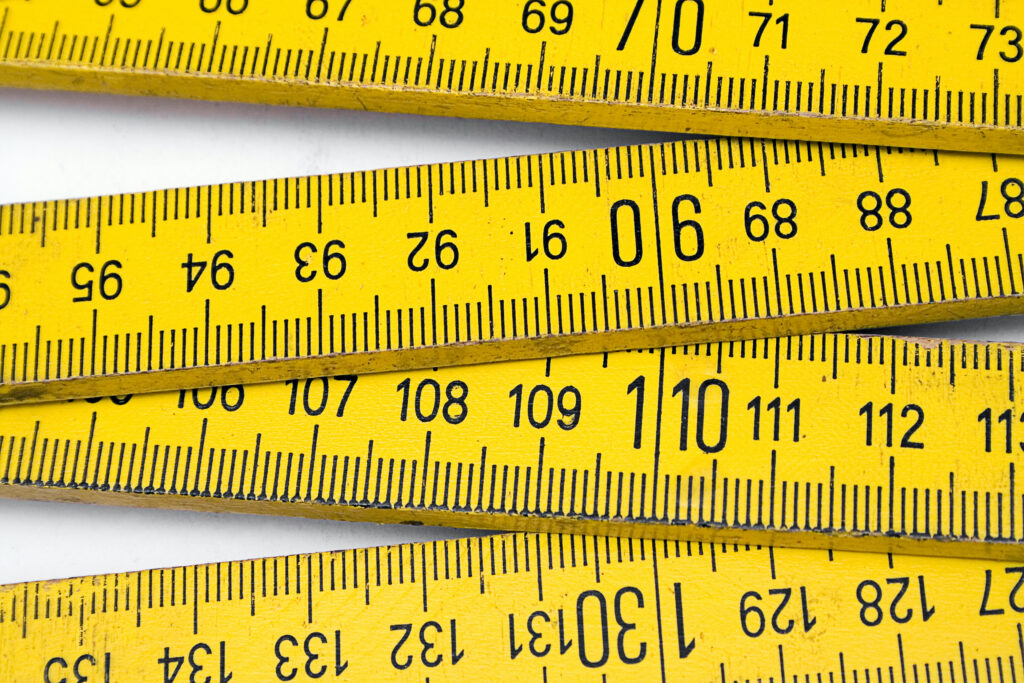 In a busy warehouse, it can be challenging to introduce new practices and equipment. However, implementing new ideas to accommodate employee height differences is essential to keeping a healthy workflow and environment.
Fortunately, there are many ways to adapt your workspaces without causing significant interruptions to productivity. Let's take a look at what you'll need to get started and examples of how to customize various spaces within your warehouse and production space.
Get Started Planning Your Space
Whether it's a brand new facility or a well-versed operation, it's never too early or too late to start implementing new strategies and practices. Consider these four topics to get you going:
Brush up on standards
Although OSHA does not explicitly set standards for supplying ergonomic workspaces based on employee height differences, as an employer, you still should keep your workplace free from recognized serious hazards, including ergonomic hazards. To formulate a plan, it's important to research and understand the best practices for preventing musculoskeletal injuries. OSHA's website provides many resources on the subject and would be a great place to start.
Check-in with your employees
Conduct internal audits and surveys of your employee base to see how your business accommodates individuals with height differences. Keep it broad so as not to single one individual out. Analyze this data to determine which areas could be improved upon and in what ways these improvements would help accommodate these differences. It's important to check in on an annual basis or as employee turnover changes.
Keep operational items within reach
Assess your space to ensure you are not placing necessary supplies on higher storage shelves. Keep them on an equal level so all employees can access them without having to ask for help. If this isn't a realistic goal, make step ladders accessible to limit reaching.
This also applies to items kept on the ground or lower shelves. Raise supplies off the ground so that taller individuals don't have to reach low and risk injury.
Fit the job to the worker, not the worker to the job
Identify proactive ways to improve personal workspaces, so you're not relying on workers to tell you if something is uncomfortable. Start by ensuring that each workstation can meet individual ergonomic standards for a range of heights. Ask yourself, would this workstation work for someone under five feet tall or over 6-feet tall? Will these accommodations help reduce the risk of injury? Research potential solutions that can accommodate these variances.
Essential Case Uses for Ergonomic Customizations
Now that you've begun brainstorming your strategy, it's time to take a look into different areas within the facility where you can initiate your plans. For each zone, ask yourself – is my ergonomic goal being met? Are workspaces customized enough for employees to be successful?
Let's take a look at three areas within a warehouse space that would benefit from ergonomic customizations.
ASSEMBLY LINE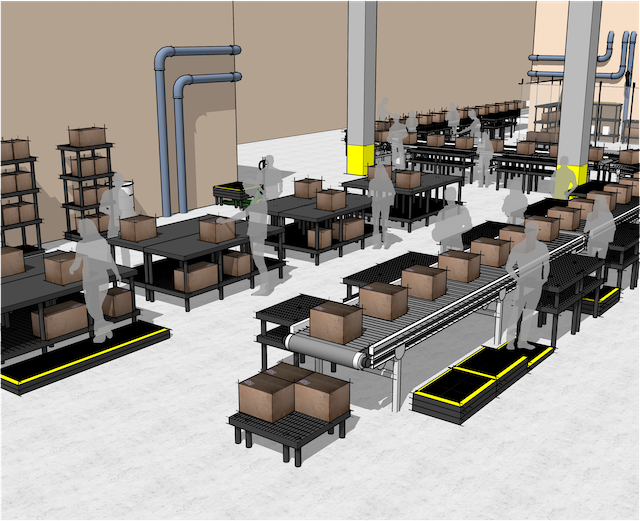 An assembly line is a considerable aspect of a warehouse and is typically a permanent structure that can't be adjusted. Therefore, it is a prime candidate for temporary or add-on equipment that allows you to improve the overall ergonomic design of the area.
Consider the following equipment for adapting workstations:
Work Tables: Keep essential items within reach of each individual. This limits the need for turning, bending, and lifting objects on repeat. By making these tables adjustable, you can ensure that the table height hits where it needs to.
Work Platforms: Work platforms are a great way to get employees to the correct ergonomic height in stand-only environments. Remember, a great rule of thumb to know you've met the right height is if the range of motion remains under the heart.
As you'll see in the example layout above, there's an even mix of work platforms and adjustable tables to accommodate every operation step.
PACKAGING AREA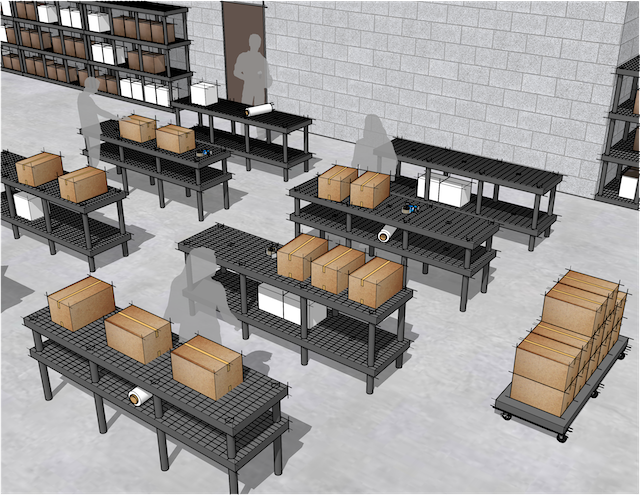 Packaging areas are essential for day-to-day operations busy with employees working on getting products out for delivery. Workstations should adjust to the height of each employee.
Consider the following equipment for adapting workstations:
Adjustable Workstations: For stand-up/sit-down operations, consider adjustable tables that change the height with your workers. It's recommended that work is done below the heart range to avoid deficiencies in work performance.
The adjustable factor of these workstations lets you modify each workstation as needed, protecting your investment. As seen in the layout example, spacing out each station will give workers ample room to pack, reach for tools, and load finished goods.
STOCKING AREA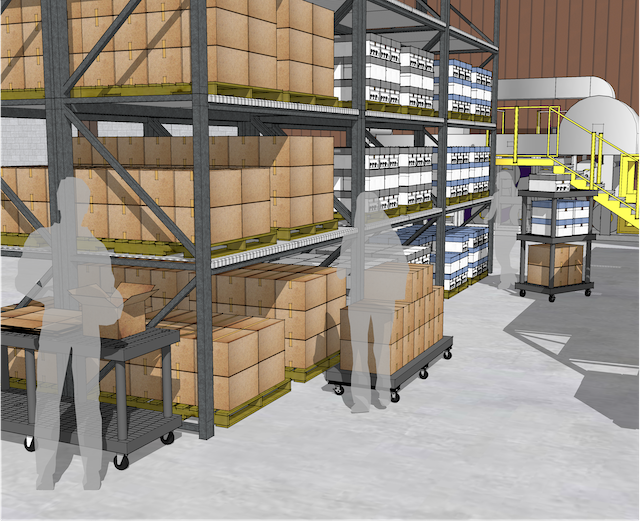 Bending and reaching is also a large part of maintaining ergonomic health with height discrepancies, both tall and short. For stocking areas, improve your storage strategy by keeping important items stocked at eye level and utilize mobile solutions to transfer products quickly and efficiently.
Consider the following equipment for storage and material handling:
Rolling Carts: To limit bending and reaching, set items at a comfortable height when transferring product around the warehouse floor. Carts are great for quick on-the-move operations.
Mobile Dunnage Racks: Instead of lifting and carrying multiple items to the desired spot, stack bulk items onto mobile platforms. This will limit the repetitive movement that can lead to musculoskeletal injuries.
Implementing the right strategies and equipment in your stocking areas can have a significant outcome on employee productivity.
---
All it takes to create an environment suitable for all height variations is implementing new practices and ergonomic products into your facility. By acknowledging and accommodating height differences with ergonomic standards, employers will see greater job satisfaction, increased productivity, and reduced job-related injuries.
To learn more about the benefits and numerous ways to use our ergonomic work platform, Add-A-Level™, download our product guide.